The YouGov website invites you to
imagine what Jesus would think
of immigration, gay marriage, and rail nationalisation. Because obviously, these are the 3 things he's most bothered about in the UK at the moment. When you put in your opinion, the results of a recent poll are then revealed: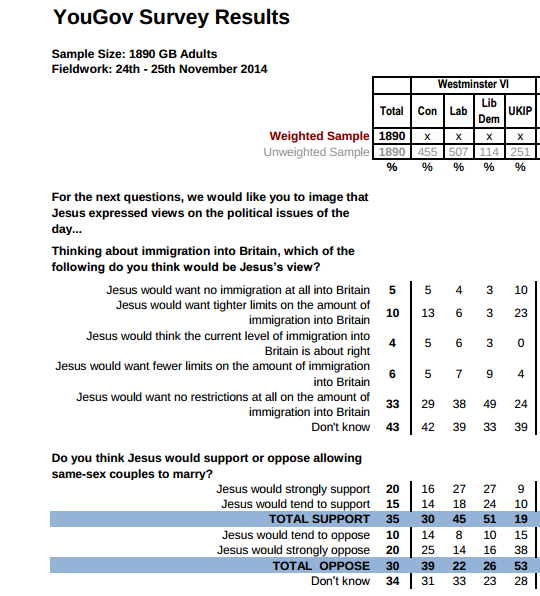 YouGov note that Jesus would be strongly out of step with public opinion on the death penalty (the majority are in favour of it) and on immigration (the majority favour tighter controls). But as the table shows, we still have a tendency to think Jesus agrees with us, whether we're Libdems on marriage or Kippers on immigration. It's a reminder of our tendency to make Jesus in our own image. (For another excellent example of this, read
10 sins we take less seriously
, and work out whether Christians are just relaxing about stuff that we were too uptight about, or letting the world and the culture mould us instead of Jesus).
Full tables are
here
, which also has a breakdown of the results by declared religious standpoint. Not surprisingly, those of 'no religion' think Jesus would be more likely to support gay marriage than either Christians or those of other religions. And I can't get my head around the 1 in 20 'Christians' who think that Jesus (refugee to Egypt) would want no immigration at all into the UK. I suspect we are dealing with a spectrum of understandings of what 'Christian' means!
The unasked question was 'how much does this shape your own view?' I also wonder whether the sizeable number of 'don't knows' for all questions represents the historical and cultural distance between us and Jesus, or (in the case of Christians) the legacy of several generations of privatised spirituality which doesn't give people the tools to think through issues in the public square. Immigration is a big issue, how do we as churches help people to think Christianly about it, rather than leaving it to a bidding war between Farage and Cameron?
Ht
political betting
.